Kevin "Actual Wizard" Marszalek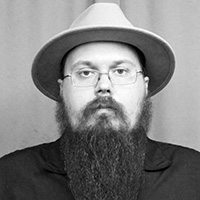 I started building internet businesses during the era that I call the "internet wild west."
Back then I was building websites with notepad and a tool known as "mass find and replace" in between long sessions of playing Quake 1 where I talked mad 💩 while I destroyed the endless torrent of newbs.
Instead of WordPress or some other fancy-pancy CMS, I was manually editing text files and uploading them to my server via FTP.
Which in my opinion, should be the only way that you are allowed to upload files to your server…
It really upsets me that kids these days can't use SSH. /sigh
Back in the day (~1996), I used to do "SEO" by automatically generating pages with a Visual Basic 3.0 program that I wrote. Note: I 💖 SubString()
My sites used to get hundreds of visits a day from search engines with pages that were nothing more than a bunch of random keywords.
This wasn't keyword stuffing, the only content on the page was keywords.
To promote my websites, I used to make posts on Usenet and chat on IRC. (Think carefully about what I just previously said… I'm sure those people weren't thinking "NICE WEBSITE BRO!")
I couldn't promote my "content" on social media, because it didn't exist. 😀
Over time, things changed, and those tactics stopped working for one reason or another.
The internet is no longer the "wild west."
Today, to be successful, you really need to do things the right way.
Which leads me to…
Why I Started This Blog:
Over the years, I've observed a lot of people making some seriously bad decisions.
Like, really bad… /facepalm
I'm talking about things like people waking up to the realization that their super-awesome website was completely obliterated by a Google penalty.
Or their advertising accounts were banned because they didn't read the rules.
Better yet, a police officer just served them with a summons to go to court. 🚨
I've identified why stuff this happens; people generally seem to have one of two different mindsets.
They either want to make money, or they want to build a business.
Sometimes, the people who wanted quick money found a way to do it.
But, very consistently, those people spammed or abused advertising networks and eventually got shut down.
Sure, they were profitable, but now they had to start from step 1, all over again, or sit in jail for awhile.
So, for a while there, they had everything they ever wanted.
They were working anywhere they pleased, working any hours they wanted to, and they were making a lot more money than most people doing it.
After getting slapped, more often than not, they gave up.
They wrote up their resume, listing their failed venture, and went and worked for somebody else.
Tip: "Made bank until I got banned off Adwords" doesn't help your resume…
But, many people who wanted to build a business, who had the right attitude, and were persistent, ended up building successful companies that still make money to this day.
Internet businesses still typically grow way faster than offline ones, so have some patience okay?
My goal with this blog is to help people achieve the results they want through digital marketing, the right way.
Because, it's better to make one inch of progress the right way than it is to make a mile of progress, the wrong way.
The Struggle
If you've never attempted to start an online business, there is exactly one thing you need to know before you get started:
Nobody has any idea about what's going on with your business…
Nobody…
You don't know, they don't know, don't bother trying to Google it, and your family/friends have absolutely no idea of what's going on so definitely don't bother talking to them about it. (Don't email me about either, I have no idea dude…)
Even when I was setting up this blog, I had some questions… So I'm Googling… Getting spam blogs in 2018… I'm on the phone… Great support! They have no idea… I'm posting on a forum… Finally a response… Okay, the person that responded is either a spammer or is mentally handicapped… What's going on here dude? Does the entire planet have a case of the dumbs?!? Screw it, I'll just do what I always do, and figure it out myself…
According to random people on various internet marketing forums, I've read the following "advice."
SEO is dead, blogging is dead, social media is dead, email marketing is dead, and paid advertising is dead. Oh and don't bother with mobile dude, super dead!
According to those people, that means that absolutely nothing works.
Which is really strange right? If it's dead, then why are all these people doing it?
Wait… Is that right? Nothing works? The internet is just one big scam?
Aliens? 👽
No, of course not.
The reality is that everything works, it's that not everything works for every business.
That and the fact that some people could probably get it to work if they didn't suck at it.
Pro Tip: Don't suck.
You can choose to not suck. Really… It's a choice… Oh, and if you're a baddie, admit it. It doesn't help to pretend…
When you first get started, you will have absolutely no idea what works for you, and more importantly, you'll have no way to know what strategies work the best.
You can't really go out there and do research to figure it out either.
Those industry standard numbers? Yeah, have fun with that!
I've read hundreds of internet marketing blogs (if not thousands, I'm trying to be fair here) and let me tell you this:
Generally, the advice is pretty good… 🤮🤮🤮
OH YEAH, BUDDY! Just blog every day and stuff will happen! That's how the interwebz works! Great Advice Bro! /end_sarcasm
I'm confident that many of those "bloggers" have absolutely no idea about what they are talking about, yet they're giving advice.
I've found myself in this situation before; I'm reading a blog post and I think to myself, "That's not how that works. Is this person a moron? This is not good man… I've actually taken this person's advice before…" 👿
So, I'm not personally confused as to why so many people fail.
They started with bad information, what did they think was going to happen?
Is the magic success fairy 🧚‍♂️ going to come by and rank their blog and start exploding their sales?
Nope…
Is spending 500 hours watching some dude talk while drawing on a whiteboard going to make it happen?
Uh, Nope…
I know there's an army of people out there who will tell you that not all businesses become successful.
That's definitely true, I've personally destroyed a few of my sites, so I can attest to that.
At some point, reality sets in. If you can't get it to work, what are you suppose to do? You can't just dump money into it forever…
But there is a way to figure out what works and that's by testing things yourself.
Sadly, sometimes tests don't go to plan, and you end up in a situation where you have to walk away.
But, usually when a business becomes successful, it has these three critical elements:
A way to make money.
A way to get people there.
Something to market.
Once you have thought carefully about those three things, tested them, and figured out what works; then you just need one more thing…
A successful marketing campaign.
Remember this:
Until your business becomes successful, you will always be exactly one marketing campaign away from becoming successful.

How to Contact Me:
Either social media or email me. If you want to email me, this is very simple, my email is probably my first name and it's probably at this domain name. If you can't figure it out, you can't email me. Sorry not sorry… 😞